JewelScent Grew Their Email List by 3,431 New Subscribers and Made $18,776.49 in 8 Days
Two years ago, an innovative fragrance product company called JewelScent launched. What makes JewelScent different from all their candle, hand wash, and aromatherapy competitors? Hidden inside each of their products is a jewel valued at $10 to $7,500.
To rev up sales and create awareness for one of their most popular and sought-after products, their jewelry candle, JewelScent hosted a giveaway the week before Valentine's Day. Using the tool ViralSweep, they set up their giveaway with a single entry field. To enter and win, entrants simply had to share their email addresses.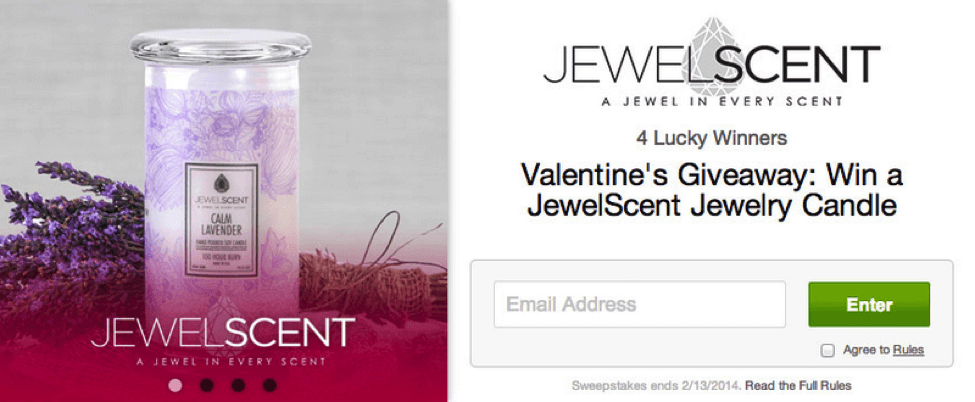 To encourage sharing, after a user pressed "Enter," they were presented with several social media sharing options. Each share meant the entrant earned additional entries into the giveaway.
Just 8 days after announcing their Valentine's Day-themed giveaway, these were JewelScent's results:
They received 15,675 entries, 3,431 of which were from new people who JewelScent did not yet have on their email list.
About 22% of the people who entered their giveaway were new people who purchased JewelScent's product.
They generated $11,659.33 in direct revenue and $7,117.16 in indirect revenue. This comes to a grand total of $18,776.49, which is $2,862.35 per day over the length of time the giveaway was running!
JewelScent did many things right with their giveaway, but here are the two decisions that made the greatest impact:
1. They used tracking links to measure the monetary return of their giveaway's efforts.
When JewelScent started their giveaway, two of their biggest goals were to grow their email newsletter list and drive revenue. These two things do not always go hand in hand, but in JewelScent's case, they did.
Why? Because they did the proper legwork that needed to be done once they collected their data (more on this in the next point). What's more, they used a tracking link on the button that people would click to go to JewelScent's website after they entered the giveaway. This helped them know whether or not their giveaway produced sales.
2. They kept in constant communication with their entrants.
Email marketing played a significant role in the success of JewelScent's giveaway. Throughout the duration of the promotion, their team communicated with their entrants via Facebook and email. Even after their giveaway ended, everyone who didn't win was sent an email with a 10% off coupon.
This effort generated $7,117.16 in revenue.
The takeaway here is that a giveaway is not valuable unless you put the data you collect to work for you. It's what you do with your list (i.e., how you sell to your subscribers after your giveaway is over) that matters most.
Final Thoughts:
Do you want more traffic?